Research Focus Program "Molecular Biosciences as a Motor for a Knowledge-Based Economy"
Supported by the Ministry for Economy, Science and Digital Development of the federal state of Saxony-Anhalt with funds from the European Regional Development Fund (EFRE)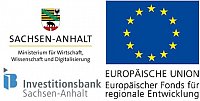 Thank you for your proposals
We appreciate your input and will let you know as soon as possible about the decision of the selection committee.
The deadline for submitting project proposals has now passed (October 23, 2016). Please do not send any further proposals at this point.
Background and Goals
The Knowledge-based economy is the economic use of scientific concepts for the benefit of society. Universities, other research institutions and industry are all partners acting together in mutual dependency. The main goal of the Research Focus Program is the optimization of this network to enhance the transfer of knowledge from basic science to its applied use.
Support of Research Focus areas
Top research in the main focus areas of the university will be strengthened through the support of defined projects. The supported projects will be designed to foster applied research, for which either industry partners have already been identified, or to provide proof-of-concept studies required to gain the interest of future industrial cooperations.
The research focus area Protein Biochemistry is already a renowned center of biotechnology in Halle. The research focus Plant Biochemistry is scientifically very string in Halle, but so far lacks contacts to industry. In preparation of the Research Focus Program a multitude of ideas for applied research projects were collected. Based on these ideas three categories of projects were formulated that will be supported by the Research Focus Program:
Duration of Support: 2017 - 2020
---
Also involved in the development of the concept were
---
---